There are many potential causes of upper cervical pain, making it challenging to pinpoint precisely what is causing it. At Bernards Sports Chiropractic & Rehabilitation in Bernardsville, we have treated upper cervical pain for many years. Our chiropractor treats not only your symptoms, but we help find the cause behind them.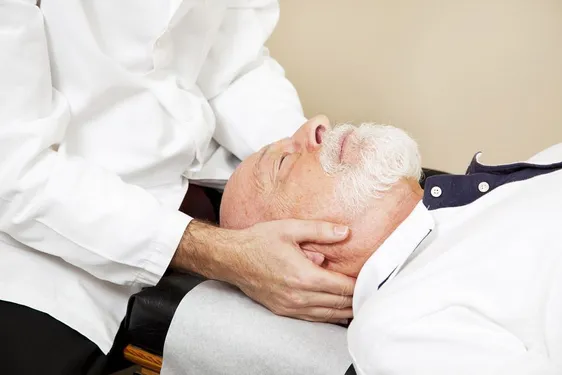 Causes of Upper Cervical Pain
Potential causes of upper cervical pain include the following.
Strained Muscles
Strained muscles may occur due to overuse, such as sitting too much in front of a computer or smartphone. Neck muscles can be strained by even small activities like reading in bed or gritting your teeth.
Worn Joints
Joints wear out like the rest of your body's joints, and your neck joints deteriorate with age. The cushions (cartilage) between your bones (vertebrae) degrade as a result of osteoarthritis. This us, bone spurs grow, as a result, limiting joint motion and causing pain.
Nerve Compression
Nerves spreading out from the spinal cord in your neck might be compressed by herniated disks or bone spurs in the vertebrae of your neck.
Whiplash
When a whiplash injury occurs, it is when the head is suddenly jerked backward and forwards, putting strain on the neck's soft tissues.
Diseases
Neck pain can be caused by disorders and diseases due to the result of spinal degeneration, including:
Cervical degenerative disc disease
Rheumatoid arthritis
Meningitis
Cervical osteoarthritis
Cervical herniated disc
.
How Our Chiropractor Can Help
Our chiropractor will evaluate your spine to determine the root cause of your upper cervical pain before creating a chiropractic care plan to treat it. we will determine the techniques that will best treat your pain. Spinal adjustments, spinal decompression, soft wave tissue regenerative therapy, and more will all be considered to relieve your pain and restore your mobility.
Schedule an Appointment with Our Chiropractor for Upper Back Pain Treatment
Call Dr. Matthew Lanum Chiropractic Physician today at (908) 221-1334 for more information or to schedule an appointment.